IT ALL STARTED WHEN…
The Wine Gallery was originally started in Corona Del Mar (in nearby Newport Beach, CA) by Chris in 1999. Due to his passion for wine developed in college in Santa Barbara, Chris opened up a small retail wine store with that name. Over the years, he expanded the operation to do wine tastings, then took on some additional space and added a small kitchen. It developed a great local following.
His dream was always to open a full-service restaurant in Laguna Beach where Chris lives with his family (around a wine concept), and the Laguna Beach location opened in 2012. We are proud of the reputation we've developed as a destination for locals who want a casual place to enjoy great wine, fantastic food under the leadership of Chef Josh, live music and wonderful conversation.
Paul joined as Chris' partner in 2018 to not only enhance the experience for our guests, but to create a vision for the future that includes expansion and a deeper contribution to the Laguna Beach community.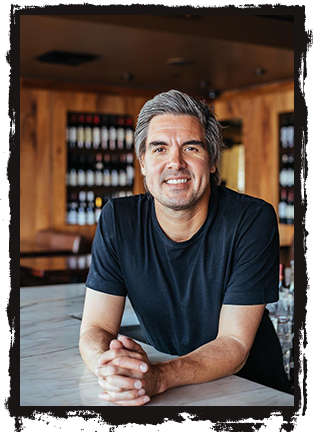 While in college, Wine Gallery Co-Founder Chris Olsen enrolled himself in UC Santa Barbara's infamous wine tasting class that most students take so they can imbibe while earning course credits. In Chris' case, this class proved to be much more than a novelty, it unknowingly left an indelible mark on his future career.
Chris began taking frequent trips to the nearby wine region of Santa Ynez Valley and Solvang and before he knew it, he'd fallen hard for the wine culture. After a stint in the mortgage business, Chris decided to follow his heart and open a boutique retail wine store back in the town he grew up in, Corona del Mar with childhood friend, Jeff Schroeder.
In his spare time, Chris enjoys wine making (check out his label, Mile 216), cooking, exploring new restaurants, hanging out with his wife and daughter Tyler and son Tanner, running, and catching the occasional wave.
Paul Spiegelman is the co-founder of the Small Giants Community, a peer-group of purpose-driven business leaders. He is the former chief culture officer of Stericycle, the co-founder and former CEO of BerylHealth and the founder and chairman of The Beryl Institute.
Paul is a New York Times best-selling author and has been honored with the Ernst & Young Entrepreneur of the Year award.
Paul is a sought-after speaker and author on leadership, employee engagement, entrepreneurship, culture, and leading a purpose-driven life. He has made many radio and TV appearances and his views have been featured in the Wall Street Journal, Inc. Magazine, and he is currently a columnist for Forbes.com.
Paul practiced law for two years prior to starting BerylHealth. He holds a bachelor's degree in history from UCLA and a law degree from Southwestern University.
For more about Paul, please visit paulspiegelman.com.
Born in Indiana, Josh was raised in Arizona with Central coast family roots. His grandfather owned restaurants in northern Indiana and his earliest memories are in his kitchens. Josh started out catering and working in friends' restaurants right after high school and throughout college. In 2008 he found himself leaving Phoenix and opening a restaurant in Denver with a close friend.
After some time in Denver the restaurant was sold and in looking for his next project his brother introduced him to Chris Olsen. In February of 2009 Josh flew out to Southern California to cook for the Wine Gallery team and was hired on the spot to open the Corona Del Mar kitchen. In 2012 the Wine Gallery Laguna Beach was opened and we have been going ever since. Although he was gone for a few years to work and travel he has always stayed close to the Wine Gallery family in one form or another.
Cooking is and always will be his passion. Josh cooks the way he would cook for his friends and family, always trying to keep things simple and let the ingredients be the star.